When it comes to running spacers, the materials and build quality of the product are essential. It is important to choose a brand that experts trust and to look for resilient and robust materials to ensure success. Furthermore, depending on one's preferences, needs, and budget, there are a variety of materials and spacer options available ranging by size, type, alloy and purpose. Ultimately, carefully considering both material type and construction quality can help ensure a successful outcome when running spacers. Because the most important thing about spacer upgrades is your safety. By taking a manufacturer and their reputation into consideration, you make a choice easier and more reliable.
Some of the best wheel spacer brands to consider include: G2 Axle & Gear wheel spacers, Eibach wheel spacers, and Rugged Ridge wheel spacers. All three are known for their quality materials and construction. They have a good history in the market, meaning there are lots of car owners out there ready to share their experience of installation, common issues and overall assessment of the products and companies.
Does the wheel spacer brand matter?
Wheel spacer brands do matter, as you want to make sure that you are using a product that is reliable and has been tested for quality. Going with a reputable brand can guarantee that the wheel spacers have been designed specifically to meet the safety standards and requirements of your vehicle. Furthermore, brand recognition can also provide assurance that the wheel spacers are backed by an experienced team with comprehensive product knowledge, enabling you to access support should any issues arise in the future.
This makes sense since the sole purpose of wheel spacers is to make the vehicle more enjoyable to drive. This can be due to aesthetic preferences or handling. If the spacing is done right (the size is correct for the vehicle, the offset is within reasonable limits, and the torque is well-measured), spacers can improve your control over the vehicle and boost stability. However, this is only true for good-quality spacers. Resilient materials and production quality allow you to enjoy the benefits of installing wheel spacers.
Poor spacer quality is actually one of the major concerns mechanics have when it comes to installation. It is easy to find the reasons why they decline inquiries about spacers in the first place:
they do not want liability
spacers speed up suspension wear
wheel spacers can damage the hub
low-grade materials
Getting cheaper spacers from an unknown brand can put your wheels in jeopardy. Cheaper spacers may not adhere to proper standards, which means they may not be as reliable and resilient as other, more expensive options from trusted brands. Not only could this put your wheels in danger, but it may lead to serious performance issues and even legal responsibility should a mishap occur. Therefore, when buying wheel spacers, always make sure you are purchasing them from a trusted and reliable brand.
Top-10 Wheel Spacer Brands
There are a lot of brands offering decent wheel spacers for cars and trucks these days. We have picked a list of the 10 best wheel spacer brands out there:
1. Eibach Wheel Spacers
If you need to increase the width of your track, Eibach PRO-SPACER is an ideal choice for pairing with Eibach PRO-KIT and SPORTLINE when you expect a more stylish look from your original or aftermarket wheels.
Eibach wheel spacers are made from high tensile-strength alloy are designed for exact fitment and wheel balance, tested under rigorous conditions for durability and fatigue, coated in a high-grade corrosion protection process (salt spray test according to DIN 50021), and weigh significantly less than those made of steel.
2. Rugged Ridge
Rugged Ridge wheel spacers are designed to provide improved tire clearance, a wider stance for increased stability when taking your vehicle offroad, and a more aggressive look. They are made of T6 aluminum to ensure strength and durability, double anodized with a black finish to protect against corrosion, and feature a hub-centric design for perfect fitment. Each order includes two wheel spacers, ten grade-8 wheel studs, ten lug nuts and a thread locker to get you ready for the trail or road.
And they also offer five years of warranty on their products. This is great, considering that wheel spacers are supposed to withstand a lot of stress during their service life. If there are any signs indicating faulty equipment, you can get them replaced on warranty.
3. KSP Performance
KSP Performance wheel spacers are designed to provide a race-quality performance and feature CNC-machined T6 aircraft billet construction for strength and durability. The black anodized finish helps protect against corrosion, while professional dimensions ensure the best fitment. The lightweight spacer is as strong as alloy steel.
KSP wheel spacers offer the perfect balance between strength and style. They are tough enough to take high torque and rough handling. With their wider stance and aggressive look, KSP wheel spacers can give your vehicle a noticeable performance boost without sacrificing safety or durability.
4. Supreme Suspensions
Supreme Suspension has a wonderful Pro-Billet Series. These wheel spacers are crafted from the highest quality T6 Aircraft Billet material for superior strength and durability. The anodized coating further improves corrosion resistance, making it suitable for all conditions. These wheel spacers are lightweight yet strong, ensuring reliable performance no matter the environment.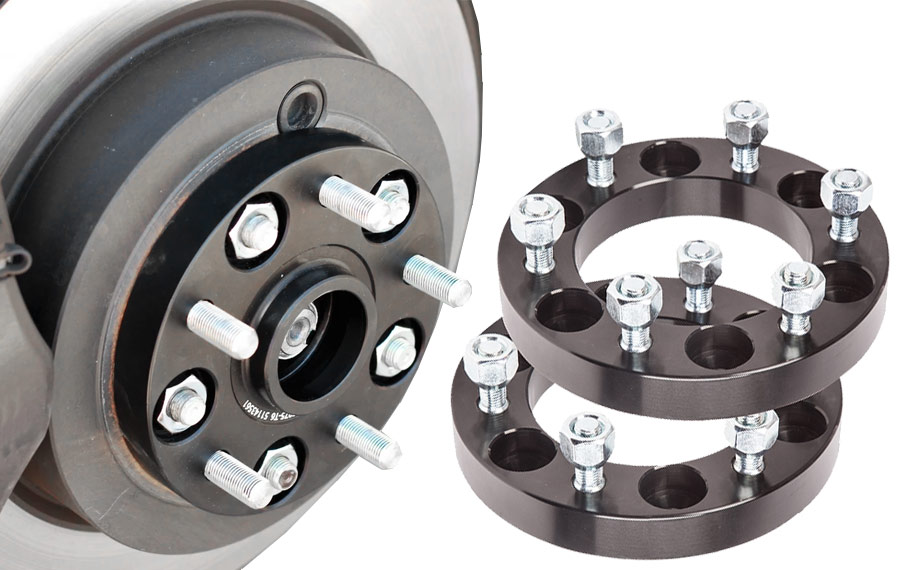 5. G2 Axle & Gear
G2 Axle & Gear wheel spacers are the perfect solutions for off-road enthusiasts looking to improve their vehicle's stability, performance and handling. Constructed from heat-treated 6061-T-6 aluminum, these wheel spacers offer a stronger, more durable construction than other materials available. Pre-installed studs, lug nuts, and thread locker make installation simple and secure - no extra hardware is required. With G2 Axle & Gear wheel spacers, you can take your off-road adventures to the next level.
6. Motofab Lifts
Motofab Lifts wheel spacers are constructed with high-grade steel and a black powder coat finish to ensure superior durability and long-lasting strength. Each spacer is made in the USA, giving you the peace of mind of knowing that you're getting high-quality products designed for optimal performance. And as an added bonus, Motofab Lifts wheel spacers come with a lifetime warranty - so you can rest assured that your investment will last for years to come. With performance, durability, and security all backed by a lifetime guarantee, Motofab Lifts wheel spacers are certainly worth considering for anyone serious about upgrading their ride.
7. Rough Country
Rough Country's offers ultra-durable spacers are crafted from high-grade 6061 aluminum for superior strength and longevity and are designed for GM models using a 6x5.5 bolt pattern. With Rough Country's Aluminum Wheel Spacers, you can easily widen your ride's track width, enhancing its overall performance and enabling greater control at higher speeds. Plus, each spacer is backed by a limited lifetime warranty to provide long-term peace of mind and assurance that these wheel spacers will remain durable for years to come.
8. Forge Motorsports
Forge Motorsports wheel spacers are machined in the UK from 6082 alloy to ensure a long-lasting, reliable product. Anodizing each spigot gives them a corrosion-resistant black finish for maximum protection against rust and deterioration. The machined alloy spigot on each spacer also allows for a precise "hub-centric" fit, making sure your wheels are perfectly centered on the hub for optimal balance and performance. With Forge Motorsports Wheel Spacers, you get superior quality and excellent performance with every purchase.
9. Daystar
Daystar wheel spacers are an excellent choice for improved ride clearance and enhanced stability with a heavy load. Constructed from high-quality polyurethane, they are built to last and provide reliable performance. Installation is easy and hassle-free, so you can quickly enjoy the benefits of Daystar's wheel spacers without any major setbacks. With their lift blocks and wheel spacers, your truck or SUV will remain supported even when loaded to capacity.
10. Spidertrax
It's easy to understand why Spidertrax Wheel Spacers are a favorite among off-road drivers. They offer custom models for every vehicle, anodized aluminum coating that resists rusting and corrosion, plus their money-back guarantee. Each Spidertrax spacer kit includes two 6061T6 anodized aluminum wheel spacers, pre-installed wheel studs, lug nuts, and a thread locker - ensuring easy installation and reliable performance. Additionally, all products are proudly manufactured in the US.
And there are a lot more wheel spacer brands to choose from. However, these are some of the best wheel spacer brands in the market that offer great quality, durability and performance. When selecting a wheel spacer brand for your vehicle, make sure to do your research and pick one that is suited to your specific needs.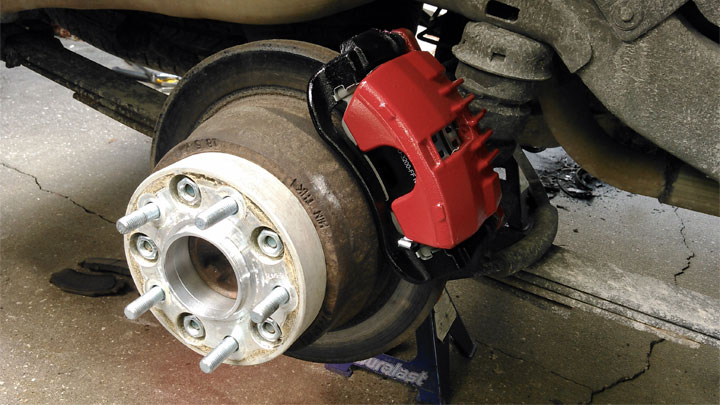 What are the safest wheel spacers?
Wheel spacers are safe to use if they are well-fitted, but even so, one type is considered better. Hub-centric wheel spacers are safer to use. They are designed to fit precisely on the wheel hub, providing a more secure and stable connection than wheel spacers that simply fit over wheel studs. Additionally, many wheel spacer manufacturers offer a warranty with their products to ensure you have peace of mind while using them.
Hub-centric wheel spacers offer more adaptability and less load than their lug-centric counterparts, as the strong load on the spacer is transferred to the axle hub. The center ring of the wheel spacer is customized to the exact configuration of the vehicle, ensuring tight-fitting and reducing vibration problems. When shopping for wheel spacers, make sure to check whether they are hub-centric and designed to get the most out of your purchase.
Another thing to consider is that forged wheel spacers are safer and more reliable than casting ones due to the one-piece design, fewer cracks, and better tensile, yield and fatigue strength. While the latter may save time and cost for manufacturers, it does not make for an ideal choice for customers.
What makes a good wheel spacer?
A good wheel spacer should be made with high-grade materials such as aluminum alloy or stainless steel. The wheel spacers should offer reliable performance and be designed to last through repeated use and exposure to the elements. They should also be machined to exact specifications so that they fit seamlessly on your wheel hub, ensuring a secure connection and maximum performance. Also, wheel spacers should come with lugs and pre-installed wheel studs to make installation easier and faster.
High-quality wheel spacers are made of billet aluminum that is just as strong, if not stronger, than the wheels they attach to. They bolt onto the studs of an axle in place of the wheel and have studs (themselves) for the wheels to attach to. Unfortunately, aftermarket parts like wheels or spacers should not be fastened with OEM parts. Original lug bolts and studs are less effective paired with aftermarket parts. And by installing them without getting appropriate aftermarket fasteners, you can undermine the wheel integrity. Having a set of perfectly matching bolts preinstalled can be very helpful.
Additionally, wheel spacers should come with a warranty to guarantee your investment. A wheel spacer manufacturer that stands behind its products with a warranty is a sign of quality. This is important since wheel spacers must be durable enough to withstand constant shocks and the vehicle's weight. And any sign of corrosion or metal fatigue should alarm the driver. It is best to get such spacers replaced as soon as possible before the real damage is done.
The Bottom Line
In conclusion, wheel spacers are a great way to make your vehicle more aesthetically pleasing and improve its performance. When selecting wheel spacer brands, make sure they're made of high-grade materials like aluminum alloy or stainless steel and that they're machined to exact specifications for the best fit. Hub-centric wheel spacers offer maximum security and stability, while forged wheel spacers provide superior strength over casting ones.
Additionally, it is important to look out for warranties from manufacturers so you can be assured of their quality products. With these tips in mind, you should have no trouble finding the perfect wheel spacer brand for your needs.
Same articles
Wheel Fitment
Customizing a truck with aftermarket wheels is an easy way to give it a unique look. A wide selection of styles and sizes are available for any taste, and installation is generally straightforward...